Computing technology has improved in ways that are simply revolutionary. These rapid changes to the industry have turned the telecom market completely upside down. Technology has never been so advanced and user-friendly as it is today. While a global pandemic is certainly an atrocious circumstance to have to take into consideration when making business decisions, the telecom capabilities have made the options available to you greater than ever.
New Technology for the Telecom Market
In the past, all telephone services were over copper wire. But today according to The Independent Review, more than 160 million wireless telephones are used! And every year the wireless solutions diminish the traditional phone line by 7%. And internet has also made the move to being a nearly completely broadband service.
Taking these statistics into consideration, are you wise to continue operating your business on old technology? It wasn't that long ago that we were using 7-inch floppy disks to store data. Very inefficient by today's standards. If you are still operating on a Digital Key, PBX phone system, or even a Rolodex ask yourself this question! Would you keep all of your sensitive company data on a Commodore 20?
If you are and are still trying to keep in contact with your customers during this age of COVID and all its uncertainties, you are falling behind your competition who have stepped up to the distributed technology of VoIP communications.
A COVID Case Study
Automated Structures, located in Ogden, Utah, contacted RyTel Hosted with an urgent need. They needed to have their staff work from home due to the COVID outbreak. Using an old PBX premise-based system tied them down to working from the office. With less than a week to implement a new VoIP system they worried that it would be impossible. The staff at RyTel Hosted went to work immediately to design, program, and implement a Hosted VoIP system. Using Polycom phones and Softphones through its user portal. Automated Structures was able to meet its goal of providing seamless communications so their employees could safely work from home. While maintaining the level of customer service expected by their clients.
Here is what our customer had to say about his experience, in his own words: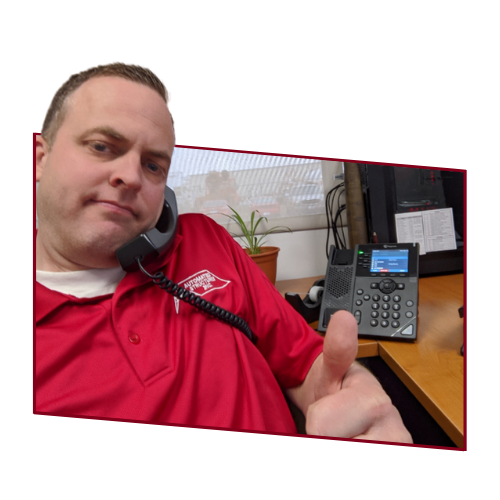 "With the COVID-19 pandemic underway we needed a way to get our office staff employees working from home as soon as possible. I called Mark Koon and told him I needed a full working phone system in less than a week. I actually thought this was an impossible request, but he said that they could make it happen – I was skeptical that anybody could really pull this off."
"Well, one week later and we have a fantastic VoIP phone system installed and employees in two different states who are working like they are in the office. I'm impressed! Any company that can pull something like this stuff has all their ducks in a row so-to-speak" said Greg Mathews, Manager at Automated Structures Inc.
RyTel Hosted Has Your Back
At RyTel Hosted, we are so thankful to have been able to help Automated Structures stay active during these trying times. It is so important to be able to keep your teams safe. But we also know that when it comes to business, every single day matters. It brings us a lot of joy to offer services that are able to protect all that is important to business owners.
We know that life throws unexpected curve-balls. Which is why we stay on top of emerging tech in the telecom market. We are here to help you not only bounce back, but bounce back stronger than ever, knowing that solutions are available to you.
If you're ready to change your communications for the better and move to a more secure and advanced technology that helps future proof your business, then give us a call at 801.662.0363 and put us to the test! You'll be glad you did!