Have you been looking for phone systems for restaurants that perfectly fit your needs? At Rytel Hosted, we know there are a number of options available regarding phone systems for restaurants. So, which is the right choice? And how will it help your business?
In the service industry a phone call can set the tone for the atmosphere of your business. We want to provide your restaurant with the best phone system to ensure your customers are met with a warm welcome.
What Phone System Should Restaurants Use?
There are a few phone system options for your restaurant. You can choose the traditional route, with a landline, or you can go with a cloud-based phone system. VoIP, which stands for Voice over Internet Protocol, is a well-known phone system in the industry due to its affordability and flexibility. As of December 2017, there were approximately 66.59 million VoIP subscribers on record. VoIP relies on the internet, rather than conventional landlines to provide phone service. In most cases, a VoIP phone system offers lower initial call costs. Also, the maintenance is the responsibility of the provider, unlike traditional phone systems.
There are times when you will need access to your business phone when you are not at your restaurant. Thanks to the flexibility of RyTel's phone systems for restaurants you can take your business anywhere. A VoIP phone system allows you to make and receive calls from a desk phone, computer or laptop, and even from your cell phone.
Benefits of Cloud-Based Phone Systems for Restaurants
Whether your restaurant is a multi-location franchise or a small diner, cloud-based phone systems for restaurants are the solution your business needs. A misconception many have is that VoIP favors larger corporations. However, there are many features that businesses of all sizes utilize. Some of the major benefits of VoIP, specifically for small businesses and restaurants include automated assistance, business SMS messaging, and call analytics.
Automated Assistance
Offer your customers a professional experience from start to finish with automated assistance. This includes the use of auto attendants and call queuing to ensure calls are picked up and organized. Your restaurant's customers will enjoy the increase in precision with order taking and customer handling. In addition, when customer calls are answered more quickly, CX increases.
Business SMS Messaging
Did you know that SMS messaging is a trusted communication method by nearly 93% of consumers (SnapDesk)? Phone systems for restaurants that feature messaging can help you streamline your communications for everything from curbside pickup and delivery notifications to inventory updates, marketing alerts, and more.
When you use SMS messaging to notify your customers of special promotions, you can achieve 10 TIMES more conversions than other ad forms (Simple Texting). You can also use SMS messaging to communicate with online orders and customers waiting for a table. The use cases are endless.
Call Analytics
Call analytics enable you to find out when your busiest times are through features that track incoming and outgoing phone calls, call time, and hold time. Knowing this key information can help you increase your customer service by increasing or decreasing the number of employees staffing the phone lines depending on the data provided. The analytics supplied by your phone system for restaurants can even provide details on speed of answer as well as many more metrics that can help you improve your customer service.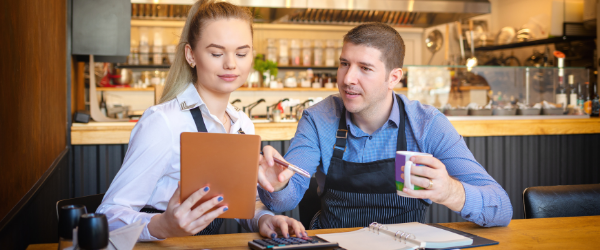 Unbeatable Value with RyTel Hosted
Within the restaurant industry, success is entirely dependent on your connection with customers. When you choose RyTel Hosted, your customers encounter high-quality, uninterrupted connectivity allowing them to communicate with you on a more positive note.
RyTel Hosted enables you with flexibility, mobility, and scalability. We also boast the highest industry standard of 99.999% uptime. So, you will never have to fret about outages!
At RyTel, we deliver phone systems for restaurants that meet your needs and exceed your expectations. To ensure you get the most out of your business solutions, give us a call today at (801) 662-0363 or send us an email at info@rytelhosted.com.
Related: 5 Ways Business Phone Service Increases Your Revenue